A few steps from the quiet coolness of a dark hollow, I stopped on a mossy green slab of Mansfield sandstone to listen. For the first time in a few hours of hiking, I heard no other voices, just the quiet trickle of shallow water flowing over rocks and the subtle complaints of rough-winged swallows pirouetting through the canyon.
I went to Turkey Run State Park a few weekends ago to find Juliet Strauss, not just the statue dedicated to her memory, not just the black and white image of her on a bulletin board along the trail. She is there in spirit, her words still whispering in the hairy ferns that grow from her sheer cliffs and softly spoken by the windswept leaves of her beloved tulip poplars.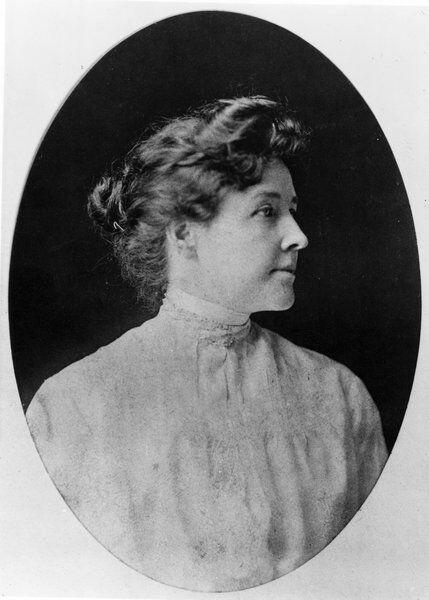 Dead for over a century now, Strauss is credited, along with a few other true believers, with helping to save the land, trees, ravines and dappled sunlight of Turkey Run from commercial development or, quite possibly, of devastation. First known as Bloomingdale's Glens, the area was her childhood playground, and long before she was noticed by tourists and campers, she wandered along Sugar Creek – which she called "Rock River" – and marveled at the magnificent forests that grew amidst the hills, hollows and outcrops of stone that geologists believe have been carved out and eroded by glacial waters over the ages.
Indianapolis News reporter William Herschell, who knew Strauss well, said she believed in the place to be, "the first temples of God, and she worshiped there." For me, there is no doubt: it is always there, intangible and ethereal, but present.
Aaron Douglass, a naturalist interpreter at both Turkey Run and its northern neighbor, Shades State Park, has literally walked in Strauss's footsteps over the past few years. "I don't know which places she loved the most," he says. "The stories just say she liked Turkey Run, but not a specific place. I'm guessing Gypsy Gulch might have been a place she liked since it's based on her childhood nickname. Her dad said it. called her "little gypsy" and her sister and mother called her "Gyp" all her life.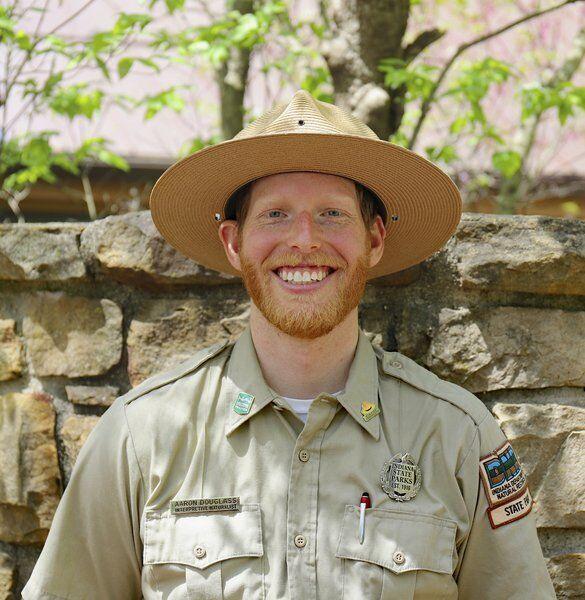 If Strauss had never sounded the bugle call to save the earth at Turkey Run, it would have been remarkable nonetheless. Long before most women were seen and heard in public forums, she forged a career as a journalist, first as a local teenage columnist in the "Rockville Tribune" in 1880, then as an editor. and collaborator with his "Squibs and Sayings". in this same newspaper; her husband, Isaac Strouse, (Juliet used a variation of the name) took full ownership in 1893. In 1903, Strauss, calling himself "The Country Contributor", began a weekly column for the "Indianapolis News", and two years later she started monthly stories, titled "The Ideas of an Ordinary Country Woman", for "The Ladies' Home Journal". She maintained this workload until her death in 1918 at just 55 years old.
Strauss was thematically traditional for her time, writing most often about both the joys and challenges of rural life and the age-old roles of women as housewives and heads of families, but she was far from be conventional. Strongly influenced by a mother who went her own way in the wake of two mostly absent husbands, she once wrote, "I never followed anyone's lead. If I wanted to ride a horse or play cards, or go wading in the creek with the kids, I always did. I have never damaged my eyesight or strained my nerves to achieve small perfections. I avoided rivalries and emulations. In short, I lived.
Although Turkey Run landowner, eccentric and elderly John Lusk, resisted the temptation to sell his land for over 35 years, allowing only a small campground and dining hall to be developed, first by Indianapolis, Decatur and Springfield Railroad, and later managed by William Hooghkirk and RP Luke – it became apparent with his death in 1915 that the land and its resources would soon be sold for harvest. Strauss, already caught up in the burgeoning nationwide conservation movement, wrote a remarkable letter in April 1915 to Indiana Governor Samuel Ralston imploring him to do something to preserve the approximately 2 400 precious acres. To his credit, Ralston acted by appointing Strauss and two other members of a special commission from Turkey to develop strategies for preserving and purchasing the property.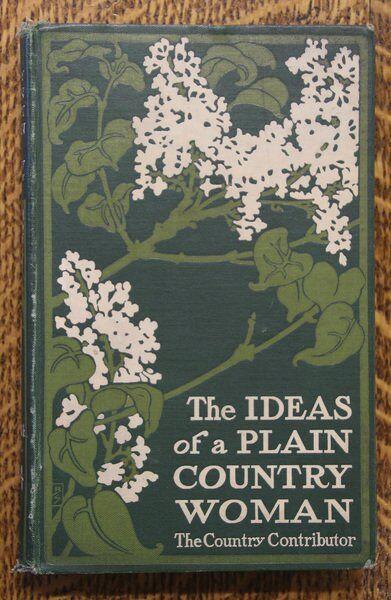 The commission, however, was virtually powerless, and as vocal as Strauss was in his writings and his recruitment of "Indianapolis News" editor Richard Smith to the cause, it took Ralston's eventual appointment of the environmentalist from the 'Indiana Richard Lieber on commission to get a lot of traction. In fact, the property was first auctioned off to a logging developer, with the commission's efforts only $100 short of the highest bid of $30,200. But, thanks to a merger with the State Park's Memorial Commission (Indiana's centennial year was 1916), and backed by considerable private funding (Indianapolis Motor Speedway owner Carl Fisher, racing enthusiast Arthur Newby and their associates were critical), Strauss, Lieber and their allies, were able to buy out the property, handing the plating company that had first purchased it a profit of $10,000. Turkey Run quickly became Indiana's second state park along with McCormick's Creek.
Douglass, now only 30, says his job is special, that he feels privileged to be able to breathe the fresh air of Rocky Hollow, to bring a group of visitors to explore the beauty of the Punch Bowl and of Falls Canyon, to direct the wondering eyes towards the wildflowers of spring. "In Strauss' time, Parke County would have been even more rural and less built up," says Douglass. "She noticed something special about Turkey Run and wanted it protected forever. She would have enjoyed the same canyons, hollows and ravines as we do now. But with fewer other people," a- he declared.
He is right, of course. Strauss once wrote: "Wild columbine and mountain roses are splashed against gray rocks in impressionistic blurs of coloring, and the place is never more beautiful than in May when dogwood and redbud form a conventional patchwork against the budding trees."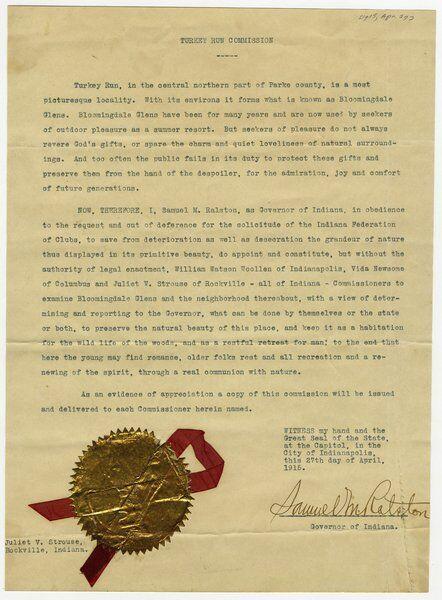 I regretted having to leave the park that day. Far from having sore feet but pressed by other obligations, I climbed the stone steps near a muddy Sugar Creek to Sunset Point and made my way to a memorial statue near the Inn and first dedicated to Strauss by the Women's Press Club of Indiana in 1922 According to sculptor Myra Richards, the memorial "reflects the spirit of Strauss's writing—
the subjection of the material to the spiritual. From there it was only a short walk back to the car park along an unusually flat, open path lined with typically impressive poplars, oaks and beeches, and I remembered something that Strauss also wrote:
"And then the trees, the magnificent giant trees rearing their splendid boles through sun-dappled undergrowth, shading the paths that lead us, drawing us again and again through still more inspiring beauty."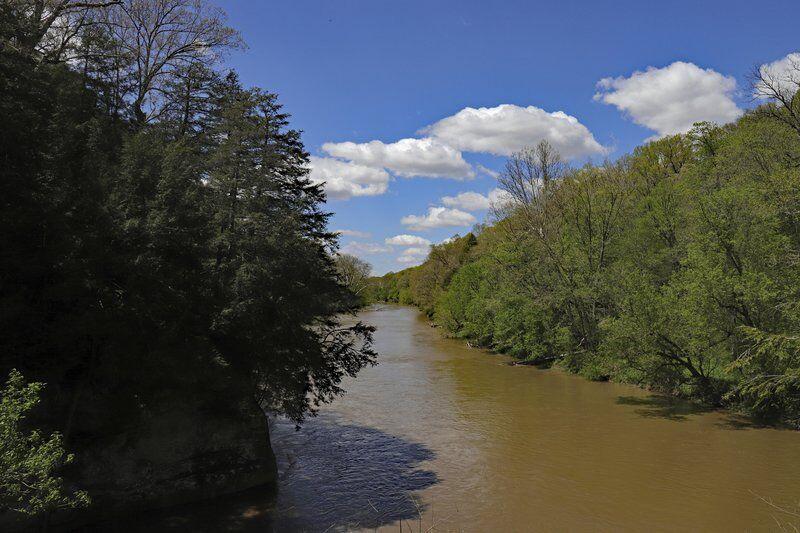 You can contact Mike Lunsford at [email protected]; his website is at www.mikelunsford.com. For more on Juliet Strauss, the author recommends "The Country Contributor: The Life and Times of Juliet Strauss" by Ray Boomhower (Guild Press of Indiana, 1998).