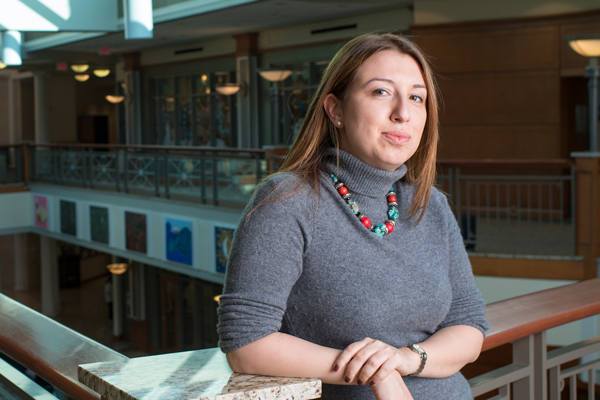 Sandal investigates Turkey's political ambitions and religious populism in new publications
Dr Nukhet Sandal will bring a freshly published perspective to a course she teaches on Middle East politics this fall after being published twice this summer on her research on Turkish politics.
"While our news cycle here in the United States has focused on the pandemic and presidential politics over the past two years, a lot has happened in the world, especially in the Middle East. I call it a region 'that never sleeps',' "said Sandal, associate professor and president of Political science at the College of Arts and Sciences at Ohio University. "We need to keep an eye on Turkey in particular, as a predominantly Muslim NATO country that has turned into semi-authoritarianism under the religious populist leadership of Tayyip Erdoğan."
Sandal will teach POLS 4420/5420 Middle East Politics in fall 2021 and looks forward to delving into the region's changing dynamics with her students.
"My research on political competition, populism, and foreign policy relates to the dynamics of many countries, including Israel, Egypt, Tunisia and Lebanon, not just Turkey," Sandal added. "I look forward to having lively discussions this fall with my students on critical topics ranging from the Abraham's Accords to the recent Iranian elections to discussions of the nuclear deal."
Turkey's Aggressive Foreign Policy Investigation
In the chapter of his book, Sandal investigates the factors behind Turkish President Erdoğan's "aggressive foreign policy to capitalize on newly discovered natural gas resources, an ambitious venture that is causing tensions in the Eastern Mediterranean," in particular with Greece and other countries which are parties to existing formal and informal arrangements in the region.
Sandal says she became interested in writing on this particular topic after Turkey and Greece came close to war in the summer of 2020.
In his chapter, "Testing the waters, pushing back the limits: Turkey's ambitions in the Eastern Mediterranean", Sandal explores the internal and external sources of insecurity that drive Turkey and Erdoğan, including economic indicators, demographic developments, the rise of opposition in domestic politics, the challenges associated with the process of accession to the European Union and concerns about other regional conflicts. The chapter is part of a book titled The new Eastern Mediterranean transformed edited by Aristotle Tziampiris and Foteini Asderaki and published by Springer.
Examining Religious Populism Strategies
In his journal article, Sandal examines how religious populism occupies a prominent place in the region's global political landscape, in particular how Erdoğan uses Adalet ve Kalkınma Partisi (the Justice and Development Party, AKP) as a political strategy to outflank rivals, especially those with relatively conservative ideologies and an understanding of nationalism.
"The AKP, as a religious populist party, distinguished itself from other Turkish political actors and movements, including the secular political establishment, the National Outlook movement of which it was a part, other popular religious movements and political parties. ultranationalist. Each of them have their own interpretations of citizenship and nationalism, "argues Sandal in his article.
She says popular religious actors around the world – including in Iran, the Philippines and Egypt – compete with other conservative actors through four distinct strategies – one-upmanship, replacement, co-option and securitization.
In the case of Turkey, the AKP assumed a liberal and pro-EU identity to "outbid" secular parties and strive to "replace" traditional Islamic movements that had not quite succeeded. on the Turkish political scene before. Once its power was consolidated, the party leaders secured the rival movement Gülen and declared it a terrorist organization, while joining forces with the ultra-nationalist Milliyetçi Hareket Partisi (Nationalist Action Party, MHP).
"Different political rivals require different strategies for religious populist parties," Sandal said. "And I wrote about how these strategies were implemented in the case of Turkey."
Sandal newspaper article, "Populist religious parties, nationalisms and competition strategies: the case of the AKP party in Turkey", was recently published in Religion, State and Society.
Sandal's current research focuses on Turkish foreign policy, religion and politics, conflict processes and the dynamics of political competition. She teaches regularly POLS 4590/5590 Terrorism; POLS 4570/5570 Contemporary National Security and POLS 2500 International Relations in addition to Politics in the Middle East.