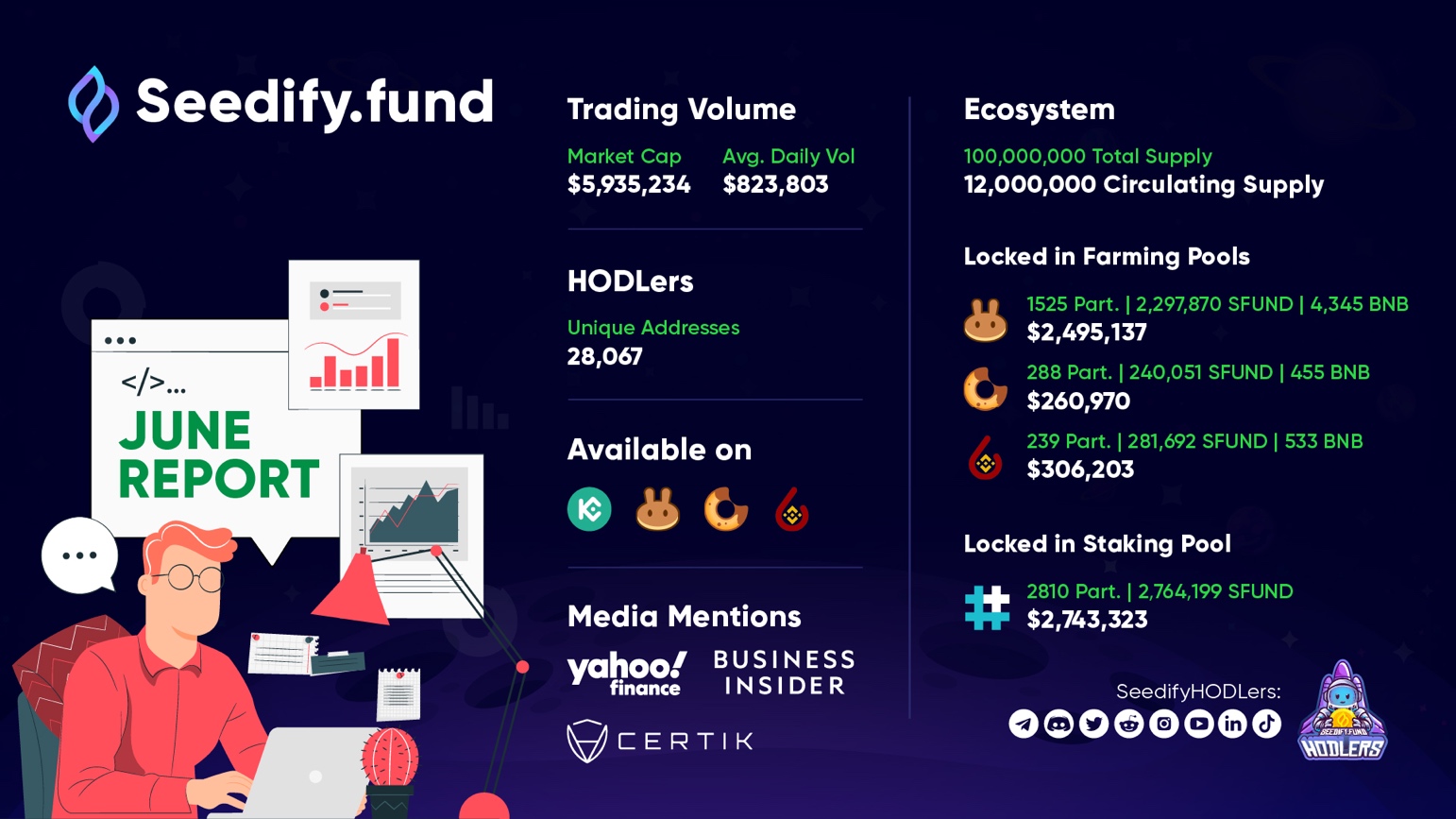 Seedify Launchpad – The Key to Equality for New Projects
LONDON, July 19, 2021 (GLOBE NEWSWIRE) – Imagine investing in a crypto project with a compelling use case and great management that could revolutionize a major market segment? Only to find your worthless chips as the management had made some rookie mistakes. If only someone had advised them better!
Over the past few months, we have witnessed the launch of many tokens in the blockchain market. Most of them, like baby turtles, have to find their feet, survive and grow on their own without help. Unfortunately, like these little turtles, most will disappear without a trace for a number of reasons including good reasons such as a small market for their use case as well as some that are entirely preventable as we saw earlier. For example, getting the right contract for their developers, the structure of their tokens, or just some wise advice from a seasoned angel investor to move them forward.
What if there was an advisory and support platform for these projects? Make them take the pole position of the Crypto Grand Prix and take them through the twists and turns of the path to the winners' podium? That platform could well be Seedify.fund, a crypto project that is making waves by realizing such a vision.
Seedify background
Mr. Levent Cem Aydan, 33, a Turkish citizen trained in the United States, founded Seedify.fund out of frustration with the attitudes of the traditional private equity sector towards cryptocurrency startups in his native Turkey during the boom of crypto of 2018. Requiring up to half the equity in start-up projects, they left no room for entrepreneurs to innovate or motivate themselves to grow their businesses.
Fast forwarding two years and capitalizing on this frustration, Seedify was born in January 2021, to allow owners of Seedify's own crypto token, SFUND, to vote on which projects to fund. In exactly the kind of direct mass ownership that crypto promises, Seedify allows token owners to vote, proportionate to their holdings, on project proposals as well as key decisions Seedify faces.
In fact, going one step further, he opened up ownership beyond the rich to anyone who could raise their hand and sign up for free tokens earlier this year. This meant that more than 25,000 people could own SFUND and decide on its investments later that year – a far cry from the handful of wealthy executives and investors usually found in traditional suppliers. It also differs from most other launch pads, which typically offer the most benefits to large investors, by offering 34% of any investment to those with less than 1,000 tokens – typically those with well under $ 1,000. to invest.
The Seedify launch pad
The Seedify Launchpad – https://launchpad.seedify.fund – provides a way for new crypto startups to promote their project. The main benefit for SFUND investors is quick access at low prices to hot new projects seeking to raise funds before they are launched.
Interestingly, the startup is only providing 3% of its total token supply to Seedify for its costs as well as passing a portion of it to SFUND holders as a reward. The essence of this is to enable SFUND holders to obtain returns on their investment and to support the start-up.
Innovative Seedify platform
The main feature of the Seedify platform is the decentralized (or DAO-based) seed funding mechanism, which decides which projects to fund using the DAO voting system. In addition, the community incubator is community driven and based on experience and expertise.
The transparent funding pool allows all of its resources to be more easily transparent to the community, which is secured through the Blockchain. Finally, it shares the staking rewards of the incubated projects.
Seedify HODLers – The Backbone of Seedify
Like many superheroes, Seedify.fund has a supporting partner – in this case, it's the growing Seedify investor community, known as Seedify HODLers. They helped propel the project, with considerable speed, through crypto-verse and into the world beyond.
Together, they used the power of social media, along with their passion, will and dedication to the Seedify Project, to energize the community at large on their vision for a community seed fund. They educate and inform on major platforms such as Twitter, Telegram and Instagram to ensure SFUND ownership goes mainstream. Since their launch, they have amassed just under 50,000 followers on Twitter alone – the equivalent of a decent-sized city!
How to apply as a startup
To get started as a startup, you need to apply to Seedify.fund using the application form on their website – https://launchpad.seedify.fund. After the verification process, the project team gets a single page on the DAO dashboard. Since Seedify is a community platform, token holders vote on the project of their choice after checking the project details. In addition, all accepted projects obtain their seed funds from the financing pool before obtaining various supports in the incubation program.
Once they complete the incubator program and progress to the launch pad projects, their reward is distributed to SFUND token holders, completing the investment cycle.
To learn more, visit the Seedify.Fund website at https://seedify.fund
Join Seedify on Telegram: https://t.me/SeedifyFund
Follow Seedify on Twitter: https://twitter.com/seedifyfund
Follow Seedify HODLers on Twitter: https://twitter.com/seedifyhodlers
Media contact
Company: Seedify HODLers
Contact Name: Richard ibbotson
E-mail: [email protected]