Summer schedule: Turkey and Greece are all the rage | Hamburg Airport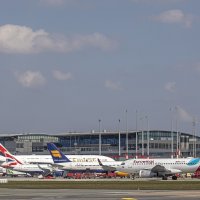 Airlines offering many more flights from Hamburg Airport from March 27 // Bilbao, Milan Linate and Ordu are new to the Hamburg route network
More choice of holiday destinations for residents of northern Germany in need of sunshine: The new summer timetable, with many additional connections, comes into force at Hamburg Airport on March 27, 2022. It is valid until 29 October 2022. About 50 airlines serve approx. 115 destinations. Classic summer sun and swim destinations are all the rage. In total, there are actually more seats available for Turkey and Greece than before the crisis. And there are three new destinations from Hamburg to whet northern German appetites: Bilbao, Milan Linate and Ordu. Four other connections return to Hamburg's road network after a long absence, bringing with them even more variety: Paphos, Tel Aviv, Verona and Gothenburg.
"With the start of the summer timetable, many more holiday flights will take off and land at Hamburg Airport again. Anyone planning a holiday in the sun is sure to find a flight to one of the most popular destinations in Turkey, Greece or Spain. Alongside top destination Mallorca, the Greek islands are also hugely popular with North Germans, as they were last year. Airlines have increased their service offerings accordingly. Our passengers also benefit from greater variety with the new destinations. Popular destinations are also returning to the Hamburg route network, having not been served by scheduled flights for a long time," says Katja Bromm, Head of Communications at Hamburg Airport.
Frequency on high-demand routes reaches pre-crisis levels
With the start of the summer schedule, airlines are dramatically increasing their frequencies to the most popular destinations in Spain, Turkey and Greece. Until the summer vacation period, as many passengers can fly to Spain each week as before the coronavirus crisis. There are indeed more tickets on sale for Turkey and Greece than in 2019.
Three new destinations in Hamburg Airport's route network
ITA Airways opens the season on March 27 with daily flights to Milan Linate. Located close to the city, the airport is particularly attractive to business travelers who take advantage of the proximity to the center of Milan. And just in time for the summer holidays, Turkish Airlines is launching weekly flights to the Turkish province of Ordu. The new route is particularly interesting for families who wish to spend their summer holidays with friends and relatives in Turkey.
From April 4, Eurowings is launching a new regular line to Bilbao in the Spanish Basque Country. Flights on the route will be operated every Monday and Friday. Fabulous beaches can be found not far from the Spanish port city, and traditional pintxos, the Basque equivalent of tapas, are the perfect way to end a day by the sea.
Popular direct flights return to schedule
In addition to the completely new destinations, four other routes are returning to Hamburg's route network, having not been served by direct flights for a long time. Eurowings is bringing an Italian destination back to Hamburg: from April 15, a trip to Verona, city of Romeo and Juliet, becomes simplicity itself, with direct flights every Monday and Friday. This makes the route ideal for a long weekend. And from April 29, Eurowings is also increasing the choice available to the north: After a long break, Gothenburg can again be reached with a direct flight from Hamburg, with flights to the Swedish coastal city every Monday, Wednesday, Friday and Sunday.
Tus Airways, for its part, is launching its first regular operations from Hamburg airport: from May 27, the airline offers a weekly flight to Pafos, Cyprus. In addition to its many beaches, the city on the Mediterranean has plenty of culture to discover in the picturesque old town.
Shortly before the launch of the summer schedule, another new airline, Tel Aviv Air, launched regular services from Hamburg: with flights every Thursday and Sunday during the summer, Tel Aviv is again a fixed part of Hamburg's road network.
Additional services to existing destinations
Along with all-new destinations, there's also more choice on five other routes thanks to additional airlines adding services from Hamburg. Eurowings joins the fray as a new operator on four routes. From April 30, the airline will serve the Portuguese capital, Lisbon, every Wednesday and Saturday. On the same day, the airline also expands its service offer to Crete with flights to the island's second largest airport, Chania, ideally located near the city, every Tuesday and Saturday. Just a day later, on May 1, a service at Port in northern Portugal follows, with flights to the city, famous for its port, every Wednesday, Friday and Sunday. For those who prefer to soak up the sun on Spain's Costa Blanca, flights to Alicante are available every Tuesday and Saturday from May 7th.
And there's good news for business travelers and those looking for a city break in Oslo: new airline Flyr is launching flights to the Norwegian capital from August 15, every Monday, Thursday, Friday and Sunday .