Turkey's HRC import volume up 15.4% in January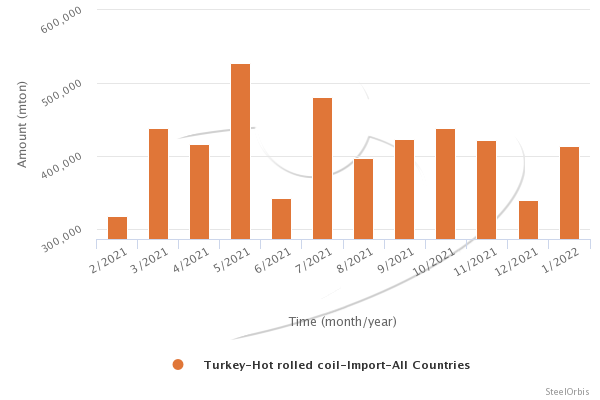 According to data provided by the Turkish Statistical Institute (TUIK), in January this year Turkey's imports of Hot Rolled Coil (HRC) increased by 15.4% year-on-year to 413,777 metric tons, in up 21.8% from December. Revenue from these imports was $366.43 million, up 22.3% month-on-month and up 84.6% from the same month in 2021.
During the review period, Ukraine ranked first among Turkey's HRC import sources, with its HRC exports to Turkey amounting to 94,600 tonnes, down 22.6% year-on-year, followed by Russia which shipped 75,820 tons of HRC to Turkey in the given period.
The main sources of HRC imports from Turkey in January are as follows:
| | | | |
| --- | --- | --- | --- |
| The country | Amount (tons) | | |
| | January 2022 | January 2021 | Annual change (%) |
| Ukraine | 94,600 | 122,250 | -22.62 |
| Russia | 75,820 | 134 139 | -43.48 |
| UK | 69 197 | – | – |
| France | 48,895 | 29,625 | 65.05 |
| Netherlands | 42,343 | 1,551 | 2630.05 |
| Japan | 22,276 | 52,992 | -57.96 |
| Slovakia | 19,807 | – | – |
| Spain | 18,315 | 1,276 | 1335.34 |
| Serbia | 9,682 | – | – |
| Germany | 7,923 | 1,099 | 620.93 |
The main sources of HRC imports from Turkey in January are as follows: