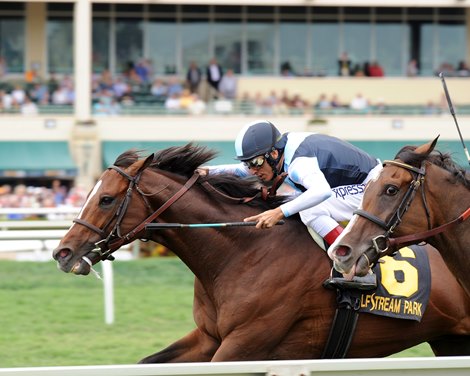 War correspondent sold to Turkish owner / breeder
Winner and first year stallion classified in several categories War correspondent was sold to Arif Kurtel and will be held in Turkey from the 2022 breeding season, Calumet Farm confirmed on August 11.
The 11 year old son of War front is the full brother of Declaration of war and from the same family that produced the winner of the Belmont Stakes (G1) Union rags .
Kurtel actively imports stallions from the United States, having already acquired Bluegrass cat , Catapult , Avery Island , Tizway , and Vice-Marshal of the Air .
"Mr. Kurtel has a very promising 2 year old named Final Dance who won impressively the first time in Istanbul. He is by declaration of war and Mr. Kurtel thinks the war front line will work well with it. Turkish breeding and racing, "said Murat Sancal of Sancal Racing, who will keep the war correspondent on his farm at Elmendorf farm before shipping the stallion to Turkey in the first week of November.
"We loved the pedigree of War Correspondent more than anything, which has many talented stallions including Declaration of War and Union Rags. We will just have to back him up with the right stock and wait for his success," said Sancal.
Bred and first run by Joseph Allen, War Correspondent won on first demand in France at 3 years old. He was sent to the United States at age 4 when he became runner-up in the Autumn Stakes (G2) at Honeysuckle. At 5, he won the Appleton Stakes (G3T) in Gulfstream Park and finished third in the Gulfstream Park Turf Handicap (G1T) of about a length to Mshawish , which was a nose in front Sleep . The war correspondent would win the Miami Mile Stakes (G3T) in 2017 and that year he finished fourth in the Gulfstream Park Turf Handicap by less than a length to Almanaar , Beach patrol , and All inclusive and moved up to third place on the Beach Patrol disqualification.
The war correspondent ended his career running for owners Calumet Farm, Sagamore Farm and Eclipse Thoroughbred Partners. He retired with a 5-2-5 record in 16 starts and earned $ 351,989. He entered stud at Calumet in 2018 at $ 7,500 and has risen to $ 5,000 this year.
Declaration of War, multiple winner of group 1 and third of the Breeders' Cup Classic (G1) 2013, was an international stallion. He entered Coolmore Stud in Ireland, commuted to Australia, was held at Ashford Stud in Kentucky, and is now held at JBBA Stallion Station in Japan.
So far, Declaration of War has spawned 35 black type winners, including 19 ranked / group winners and one Australian champion stayer Wish and declaration, who won the 2019 Lexus Melbourne Cup (G1); and, Canadian champion 2 years old male Mr. Hustle .